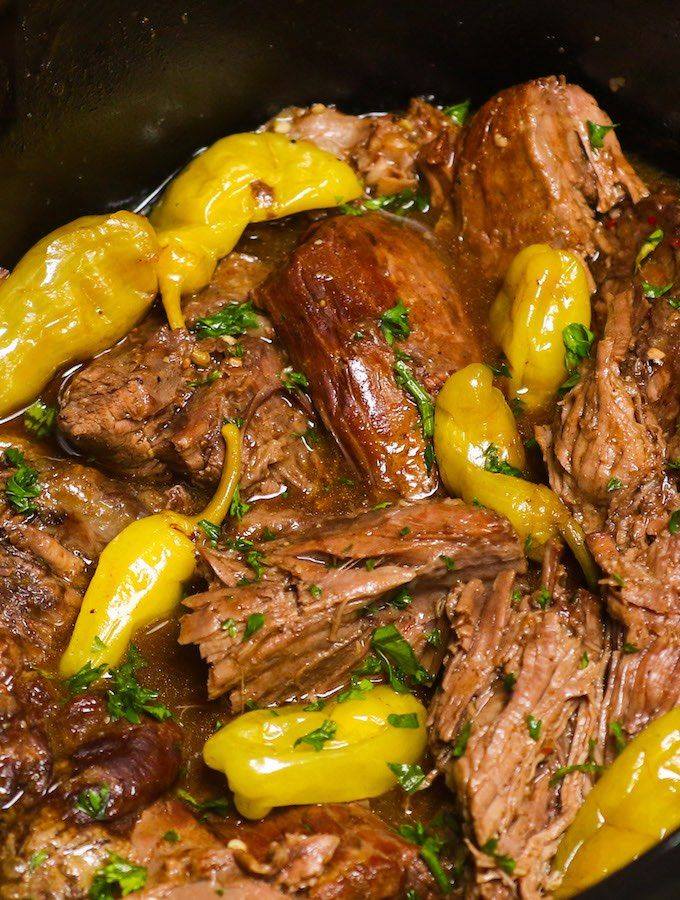 Ingredients
1 3 lb chuck roast
2 tbsp olive oil or vegetable oil
salt & pepper to taste
1 packet ranch dressing mix
1 packet dry onion soup mix
1/2 cup salted butter 1 stick
8 peperoncini peppers
Instructions
Heat up a large skillet on high. Add oil to hot skillet. You want it really hot here to brown or "sear" the beef quickly.
Take a paper towel and make sure you dry both sides of the pot roast. Season with a little bit of salt and pepper. Once the skillet is nice and hot, add the roast.
Using tongs, flip the meat over and sear the other side of the roast for another 2-3 minutes.
Transfer meat to slow cooker. Sprinkle packets of dry ranch dressing and onion soup mixes over pot roast.
Top with a stick of butter then place peppers on and around roast.
Cover and cook on low for 8 hours.
Take two forks and start shredding the meat. Discard any big fatty pieces.
Then serve!