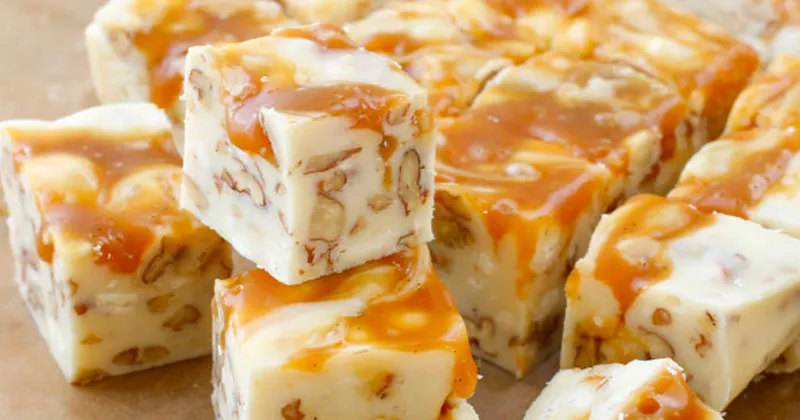 Satisfy your craving for sweets by this incredible treat. It sure did satisfy mine yesterday. Like any other day, I was browsing the internet for new recipes that are easy and delicious when I happened to stumble upon this one. The one that got me the most was the set of ingredients. They were really simple and easy to find. Also, just thinking about the taste of the outcome got me excited so I went to the store and bought all the ingredients. I went home and started making it. The result was so amazing. It did not disappoint me at all. Try it, I'm 100 percent sure that you're gonna love it!
INGREDIENTS
3 cups white chocolate chips
14 ounces sweetened condensed milk
4 tablespoons butter
1/2 teaspoon vanilla extract
1 cup chopped pecans
1/2 cup room temperature caramel sauce
How to make 5 Minute White Chocolate Caramel Pecan Fudge
Step 1: In a medium-sized glass bowl, add the milk, butter, and chocolate chips. Stir until well-mixed.
Step 2: Put the glass bowl in the microwave and heat for at least 90 seconds.
Step 3: Remove from the microwave and stir until well-mixed and then put it back into the microwave and heat for an additional 15 seconds. Repeat process until the chocolate is completely melted.
Step 4: Remove from the microwave and add the pecans and extract into the bowl. Stir until blended.
Step 5: Line a tray with parchment paper.
Step 6: Transfer the mixture into the lined tray. Use a spatula to spread the mixture with a thickness of 1-inch.
Step 7: Pour the caramel sauce on top.
Step 8: Spread the caramel on the fudge using a spatula.
Step 9: Let it cool to room temperature before serving.
Step 10: Cut the fudge into 1-inch squares. Serve and enjoy!
Note: Put the leftovers into an airtight container and put it inside the fridge. It can last up to 1 week.