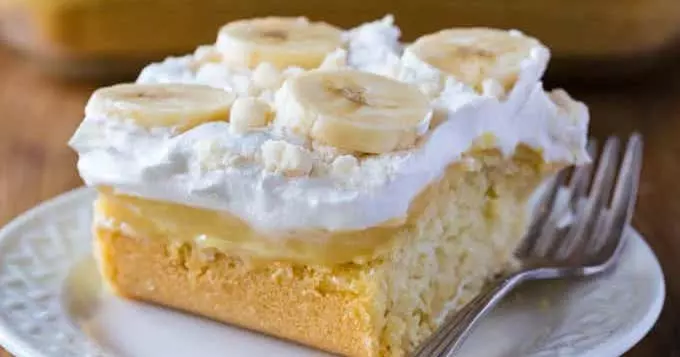 Cool dessert recipes always make summers even more special. The creamy cool texture of this delicious Banana Pudding Lush Cake recipe is a fantastic idea for making a poke cake dessert. There is something very satisfying about eating chilled bananas coupled with whipped cream and cake. This recipe comes together well with a layer of yellow sheet cake and a delicious vanilla pudding filling inside and then a layer of whipped cream on top. The cake soaks up the banana pudding perfectly and then served with crushed Nila wafers sprinkled on top along with real bananas for garnish. You can never go wrong if you add mixed nuts, caramel or chocolate shavings as a garnish along with the wafers.
This dessert recipe is a fantastic combination of a banana cream pie and a banana cake. The light and airy texture of this dessert will make your guests drool for more helpings. Thanks to the food blog My Incredible Recipes for sharing this heavenly Banana Pudding Lush Cake recipe with us. For more cool dessert recipes and poke cake recipes do visit the website. This recipe for poke cake is unique and will not disappoint your taste buds. Try making this banana heaven today!
Please continue to Next Page (>) for the full list of ingredients and complete cooking instructions.