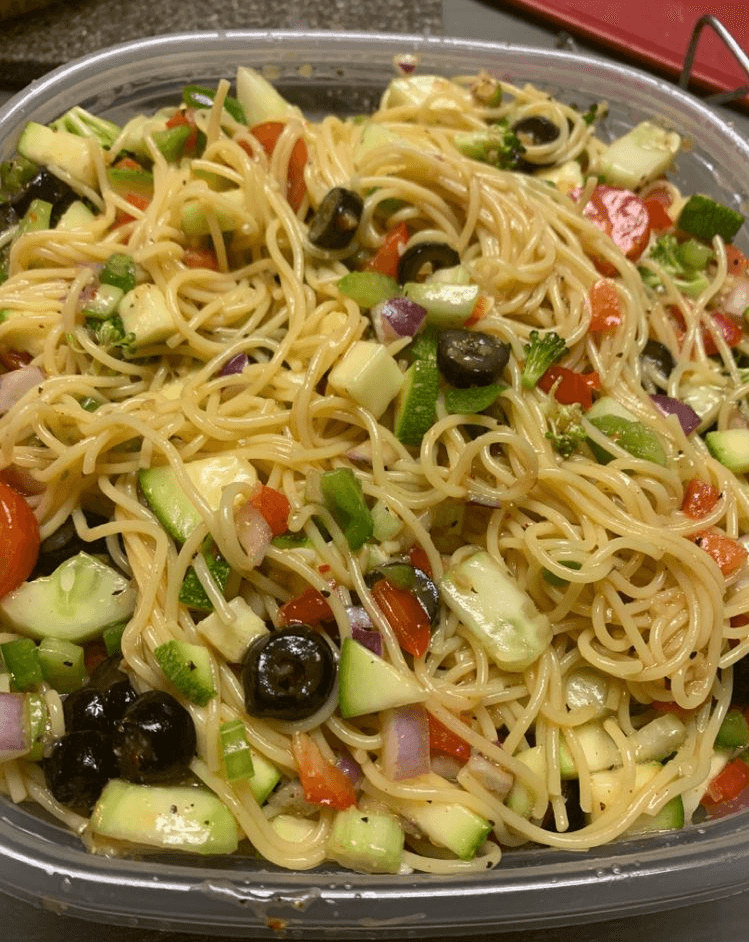 Usually when it comes to pasta salad, the star of the show is, well, the pasta, but that's not quite the case with this colorful dish. This California Spaghetti Salad is loaded with so many garden fresh veggies, and bursting with so many delicious flavors and vibrant colors, it's nearly impossible for them to not steal the show! It's a vibrant and crunchy summery salad that we just can't get enough of.
This side dish is full of so many crisp veggies: zucchini, cucumber, bell peppers, onion, tomatoes… and a few olives too. It's all tossed with tender spaghetti and a zesty Italian-style dressing. You don't frequently see spaghetti in a chilled pasta salad, but it's time that we all give it more of a chance. It works so well in this recipe; it still provides that comforting chewiness but the bulk of the flavor and texture of the salad comes from all of those fresh veggies. It's more of a supporting character than a fusilli or a penne might be, but in the end, it creates the perfect balance.
This is one of those versatile, "use-it-up" recipes that you can always depend on when you need to clear out the fridge. If you don't have all of these particular veggies on hand, you can really switch it up as needed and still end up with a great result. Have some yellow squash? Throw it in. A little green onion? That'll do nicely. No cucumber? Swap in some celery. We promise… it pretty much all works!
For Ingredients And Complete Cooking Instructions Please Head On Over To Next Page Or Open button (>) and don't forget to SHARE with your Facebook friends