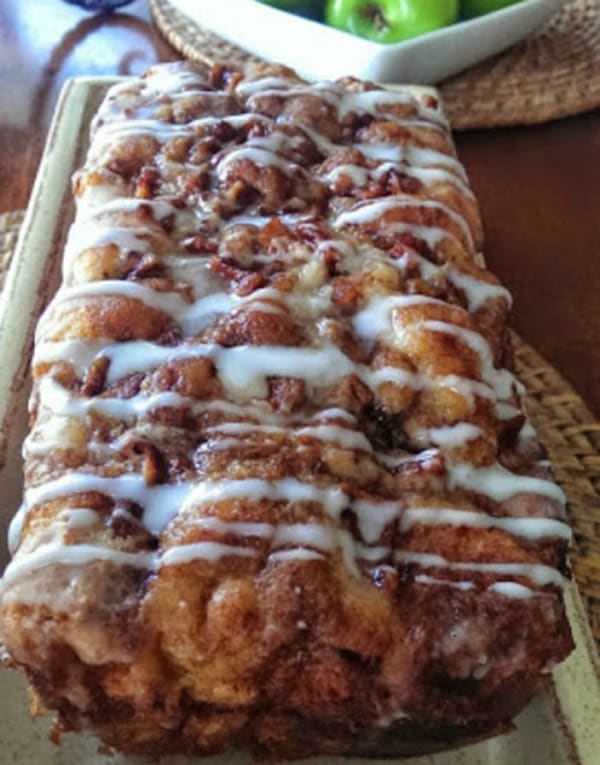 Fluffy, buttery, white cake loaf loaded with chunks of apples and layers of brown sugar and cinnamon swirled inside and on top. Simply Irresistible!
This Awesome Country Apple Fritter Bread is one of the top recipes on the blog!
It's so versatile, delicious and it sure doesn't last long!
The verdict seems to be, you need to bake two…because the first one will disappear in no time.
I think. Also, as you can see in the pictures, I didn't get my apples distributed very well. I recommend swirling each layer individually with a knife, rather than once at the end as in the original directions. I changed the directions below to account for this. Who says it has to be fall to make a good apple recipe?!
I made applesauce with five of them, that was my original intention. What to do with the rest of the apples became the burning question.
Eat if for breakfast, enjoy it for dessert, make it a snack— no matter how you enjoy it, you'll always want more. Luckily, it's pretty simple to whip up! Let us show you how, then read on for the full recipe and make yours today, You guys are going to love how easy this apple fritter bread is and the texture is…epic! It's sorta dense like a pound cake yet so doggone moist and tender.
If you're the type of person who likes to bake and give away quick breads as gifts this is the one!!!
Please continue to Next Page (>) for the full list of ingredients and complete cooking instructions.