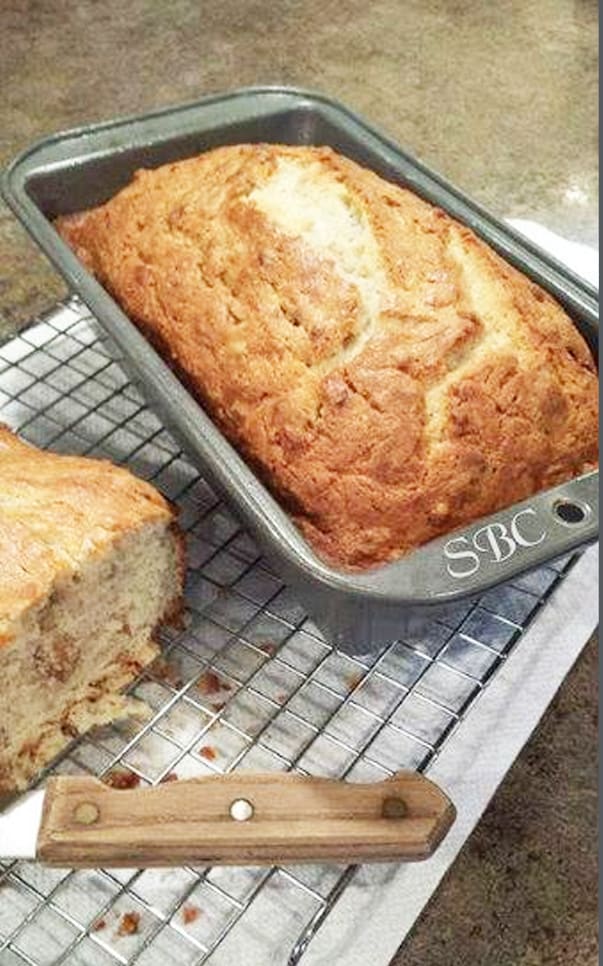 Ingredients:
3/4 C. Butter, softened
8 oz. pkg. cream cheese, softened
2 C .Sugar
2 large eggs
3 C. all-purpose flour
1/2 tsp. baking powder
1/2 tsp. baking soda
1/2 tsp. salt
1 1/2 C. mashed bananas (about 4 bananas)
1 C. Chopped Nuts
1/2 tsp. Vanilla
Directions:
Beat butter and cream cheese until creamy.
Gradually add sugar, beating until light and fluffy.
Add eggs, one at a time. Combine flour and next three ingredients.
Gradually add to butter mixture; beating on low just until blended.
Stir in bananas, nuts and vanilla. Spoon batter into 2 greased loaf pans.
Bake at 350 degrees for about 1 hour or until a wooden pick inserted in center comes out clean.
Cool before slicing, if possible! Enjoy!