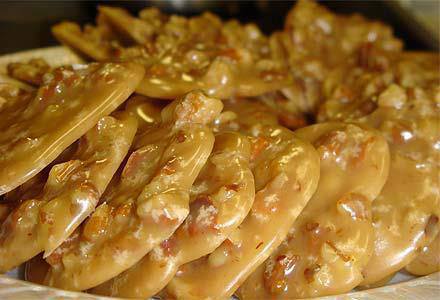 They are terrific! Not chalky, but creamy and delicious. These can be stored at room temperature, or frozen. Can't beat pralines from Louisiana!
3 cups sugar…
1 cup buttermilk
1/4 cup light corn syrup
1 pinch salt
1 tsp baking soda
1 tsp vanilla extract
1 quart pecans
Combine sugar, buttermilk, corn syrup and salt in a very large pan (it will foam considerably when soda is added), and bring to a nice rolling boil. Add soda, stir and cook until soft-ball is formed when dropped in cold water. Then remove from heat and add vanilla. Beat until color changes and candy thickens. Stir in pecans. Drop by teaspoons onto greased cookie sheet. (DO IT FAST before the candy hardens).