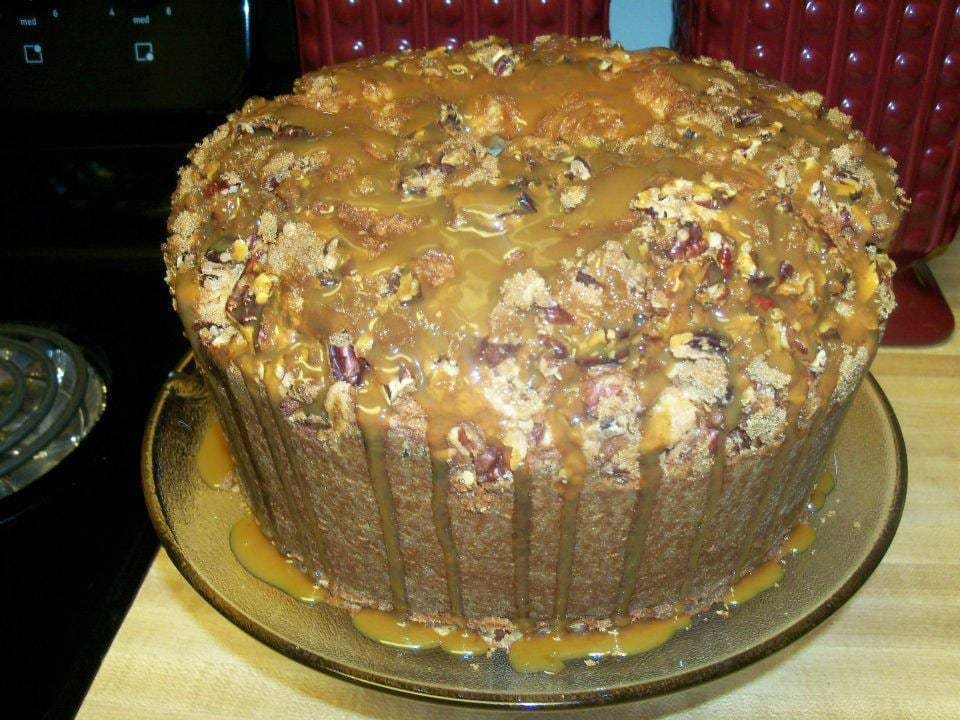 This recipe and my baked chicken recipe went viral a couple of years ago! The top does taste like pecan pie on top of pound cake!
I leave my cream cheese, butter and eggs out to reach room temp.
In the mixer, I cream 4 sticks of butter, 8 oz cream cheese and 4 cups of sugar until smooth, add 8 large eggs, one or two at a time. Then, I add 4 cups of all purpose flour, one cup at a time.
Lastly, I add 2 to 3 tsp of vanilla flavoring.
I grease and flour my 10-inch angel food pan and pour in the batter.
I sprinkle pecans and brown sugar on top (a cup or little more of each) and lightly press into the batter.
I bake on 325 degrees for 1 hour and 30 minutes.
I test for doneness with a wooden skewer.
If I insert and cake is not done (still wet), I allow to bake a little longer until skewer can be inserted and comes out dry. It usually takes about an hour and 45 minutes.
I remove from the oven and allow to cool a few minutes before removing from pan.
When I invert onto a plate, I lose a few nuts, but as you can see from my picture, they kind of bake into the top crust.
I turn onto another plate so pecans are on top! Then, drizzle with a jar of caramel or make my own.
To make the caramel icing:
In a pot, I melted a stick of butter, added a cup of sugar, 1 (12oz) can of evaporated milk, 1 (14oz) can of sweetened condensed milk and a tsp of vanilla.
I boiled over a medium to low heat stirring CONSTANTLY till tan, smooth and thickened. As always, my recipes are a guide. Be creative…make it your own!