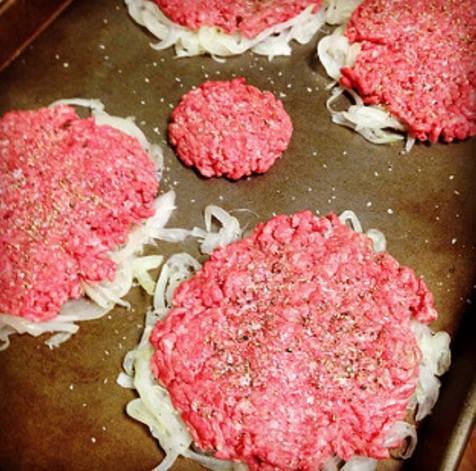 Oklahoma Fried Onion Burgers are incredibly easy to make and insanely delicious. The key to making these mouth-watering burgers featured in Cooks Country is to smash thinly sliced onions into the ground beef before cooking. The result is golden caramelized onions embedded a perfectly cooked burger!
Oklahoma Fried Onion Burgers
Ingredients For Oklahoma Fried Onion Burgers:
I used the following simple ingredients for these awesome burgers: Onion, Kosher salt, freshly ground black pepper, ground beef, unsalted butter, vegetable oil, sliced Cheddar cheese, and my homemade hamburger buns. I used 93% lean ground beef rather than the 85% suggested by Cooks Country.
Ingredients for Oklahoma Fried Onion Burgers
Preparing The Onions For The Oklahoma Fried Onion Burgers:
The most time-consuming part of making these burgers was prepping the onions to remove as much moisture as possible. The reason for doing this is that the onions won't get hot enough to brown with all their liquid.
I started by cutting the onion in half, pole to pole, and slicing it into 1/8-inch slices. Then, I combined the sliced onions with some Kosher salt and placed them in a wire mesh strainer set over a bowl. After about 30 minutes, I dumped the onions into a clean dish towel and squeezed them dry. I was amazed at the amount of liquid that came out.
Preparing Onions for Oklahoma Fried Onion Burger
Making The Oklahoma Fried Onion Burgers:
I divided the onions into four separate piles on a rimmed baking sheet. Then, I formed the ground beef into four lightly packed balls and placed them on top of the onion piles. Next, I used my hand to flatten the ground beef into the onions, ensuring that the onions stuck to the beef. Finally, I sprinkled the patties with some salt and pepper.
Forming the Oklahoma Fried Onion Burgers
I melted the butter with the oil in a 12-inch nonstick skillet over medium heat. Then, I carefully slipped a spatula under each burger and transferred it to the skillet, onion side down. I cooked the burgers for about 10 minutes until the onions were golden brown and began to crisp around the edges. Next, I carefully flipped the burgers and cooked them on high for several minutes until they were nicely browned.
Please Head On Over To Next Page Or Open button and don't forget to SHARE with your Facebook friends