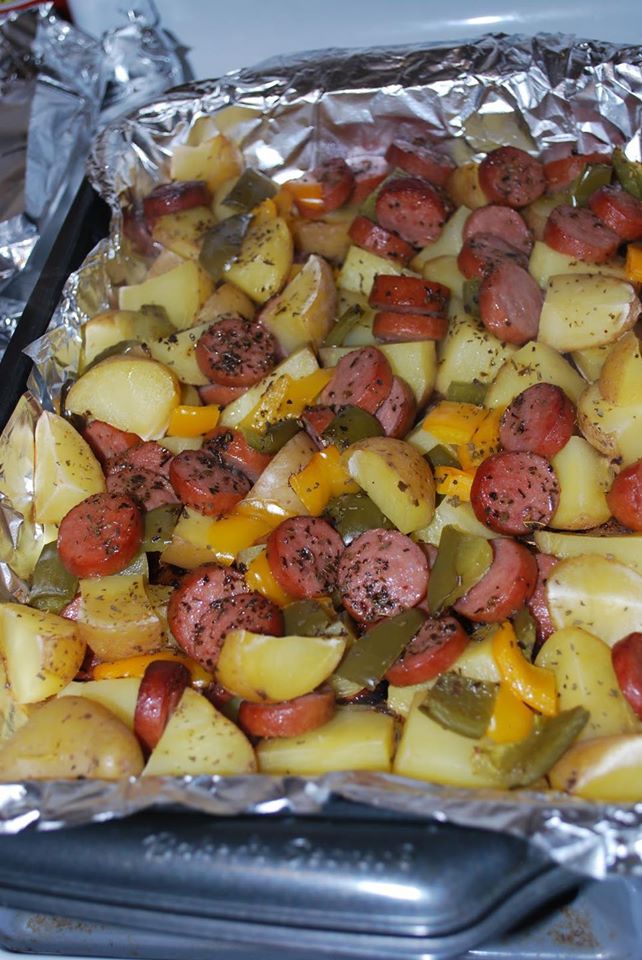 Oven Roasted Smoked Sausage and Potatoes – an easy sheet pan meal with smoked sausage (my fav), potatoes, and onions – your whole family will love!
This recipe was created back in 2014. When I shared it on my Facebook page it went nuts with over 600,000 views, 20,000 some shares, and over 100 comments. I can not take all the credit for this, I found it on Big Blue Binder recipe page and still make it today. Sheet pan meals are the best and they are so easy. It continues to be one of my favorite recipes today. This recipe has been adapted and made suitable for a WW diet. The original recipe called for 1 package of smoked sausage, 5 medium potatoes, and 2 tablepoons of olive oil just in case people were looking for old the recipe.
Reasons why I love this meal:
Smoked Sausage – If you have never had smoked sausage (of ANY kind) made from a butcher you are missing out. The taste and flavor of smoked sausage are phenomenal.
Potatoes – Potatoes are my favorite vegetable. They are loaded with potassium and help keep you full. Potatoes have more potassium than a banana does.
Onions – When roasted onions in the oven they almost turn out like caramelized onions that you would make in a skillet. Just these three ingredients are so simple and make for one tasty dish.
Please continue to Next Page (>) for the full list of ingredients and complete cooking instructions.