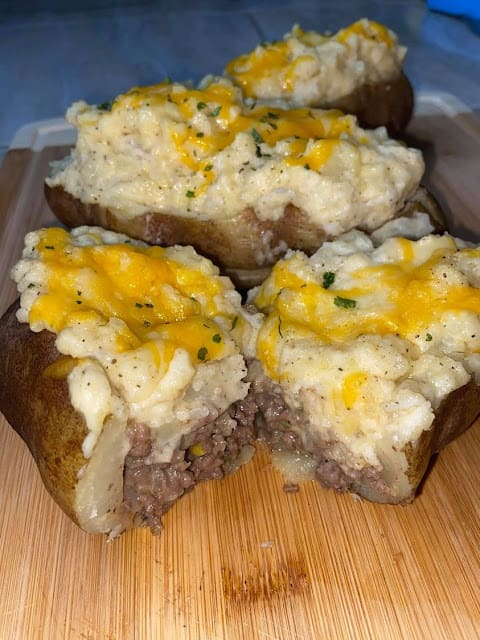 Remember earlier when I said these where convenient? Well here's why! Twice-baked potatoes can be assembled, stuffed, and stored in the fridge for up to 4 days. You can also individually wrap each potato (minus the cheese) in aluminum foil and pop them in the freezer for up to two months. In my experience, cheese does not hold up well in the freezer, so you'll want to save that step for baking day. The frozen potatoes will need about 12 hours to thaw before baking, so remember to transfer them from the freezer to the fridge the day before you plan to use them.
This recipe makes 8 twice-baked potatoes, which is a TON of potato if you're a smaller household. That said, if you're serving a crowd or have a wonderfully large family, this recipe can easily be doubled to suit your needs.
The second baking session is to warm the newly stuffed potatoes, crisp up their skins, and melt the magical cheese piled on top.
P.S. I kept these vegetarian, but if you feel inclined to get meaty, go ahead and toss some bacon bits on top of these bad boys. I won't judge.
So much texture! So much flavor! So much YUM.
Please continue to Next Page (>) for the full list of ingredients and complete cooking instructions.