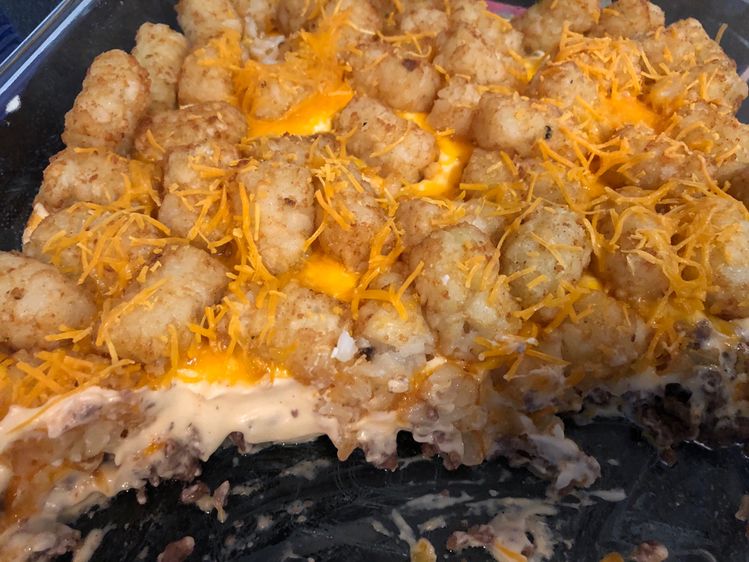 This tater tot casserole has been part of my life since childhood. It is one of my favourite casseroles. My grandma made the best tater tot casserole that I have been trying to replicate. This recipe is not her original recipe, but the one closest to hers. It is super easy to throw together using mostly pantry ingredients. A no-fuss recipe that guarantees a winner casserole that everyone will surely keep begging for!
If you love a good casserole, this tater tot casserole is a must-try. The homemade cheese sauce is the highlight here. You can pair it with pasta even use it for your mac&cheese.
Ingredients
1 package of tater tots
2 pounds ground beef
homemade cheese sauce
3 garlic cloves, chopped
1 c. shredded cheese
1 chopped onion
Homemade Cheese Sauce:
1 c. milk
2 tablespoons butter
½ c. shredded cheddar cheese
1 8-ounces pkg. cream cheese
2 tablespoons flour
How to make Tater Tot Casserole
Step 1: Cook the meat until no longer pink. When the meat is almost done, add the onions and garlic. Once done, drain the excess grease and set it aside.
Step 2: To make the homemade sauce, melt the butter in a small pan. Once the butter has melted, stir in the flour. Cook for about a minute until the mixture is slightly bubbling. Then, stir in the milk. Into squares, cut the cream cheese and add them to the mixture, stirring constantly until the cream cheese has melted. Now, add the shredded cheese, stirring until melted, and you have a nice, and thick sauce.
Step 3: Into a 9 x 13-inch pan, spread half of the meat and top with half of the cheese sauce. Do the same with the rest of the meat and cheese sauce. Sprinkle the cheese sauce layer with shredded cheese followed by the tater tots.
Step 4: Place in 350 degrees preheated oven and bake for about 50 to 60 minutes.