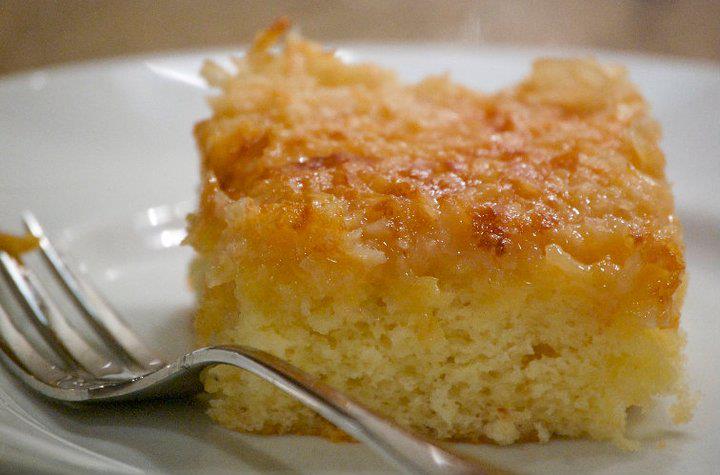 INGREDIENTS:
4 eggs
2 cups sugar
2 cups flour
2 tsp baking powder
Pinch of salt
1 tsp vanilla extract or other flavoring
1 cup milk
1 stick butter
DIRECTIONS:
Preheat oven to 350 degrees F. Grease and flour 9 x 13 inch baking dish. Beat eggs well, until light for about 5 to 10 minutes, this is very important. Gradually add sugar and beat until light and fluffy, again very important for the success of the cake. In separate bowl, combine flour, baking powder and salt. Add to creamed mixture and fold together. Heat milk and butter in a saucepan until hot, removed from heat. Add hot milk mixture and vanilla to cake batter and stir until combined, then pour into prepared pans. Bake 25 to 30 minutes, or just until a toothpick inserted in the center comes out clean. While cake is still hot top with coconut topping. Cool on a wire rack.
Coconut Topping:
5 Tbsp butter
5 Tbsp brown or white sugar
3 Tbsp whole milk or cream
3/4 cup shredded coconut
Cream together and spread over Hot Milk Cake. Broil for 4 inches away from heat for 2 to 4 minutes until golden brown.