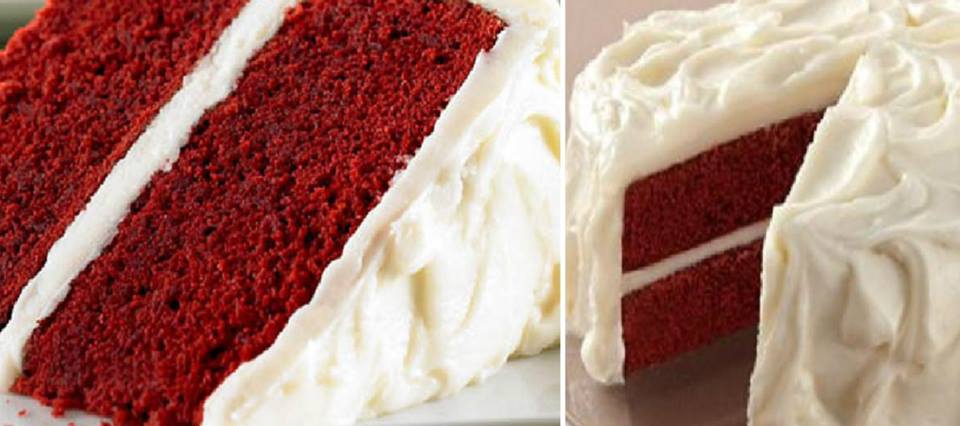 INGREDIENTS:
1/2 cup shortening
1 1/2 cups sugar
2 eggs
1 tsp vanilla
1 tsp baking soda
1 Tbsp vinegar
2 1/2 cups flour
2 Tbsp cocoa
1 tsp salt
1 cup buttermilk
2 oz. red food coloring, see all natural recipe below
DIRECTIONS:
Preheat oven to 350 degrees F. Grease and flour two 9 inch round cake pans or a 9×13 baking dish.
In a large mixing bowl cream together shortening and sugar. Beat in eggs and vanilla.
In a small bowl add vinegar and sprinkle baking soda on top; set aside.
Sift together flour, cocoa and salt; add alternately with buttermilk, beat after each addition. Stir in baking soda and vinegar mixture. Mix in food coloring. Pour into prepared baking pans.
Bake 30 minutes, or until knife inserted into center comes out clean. Remove from oven, set aside to cool.
Frosting:
1 cup milk
¼ cup flour
1 ½ cups granulated sugar
3/4 cup butter, 1 1/2 sticks room temperature
1 tsp vanilla
Over medium low heat cook milk and flour until thick, stirring constantly. Remove from heat, set aside; let cool.
Cream together sugar and butter until light and fluffy. Add vanilla and blend in well. Add cooled
Milk sauce; beat until stiff. Frost cooled cake….enjoy!
Red Beet Juice is an all natural red food coloring….here is how you make it…
Use a few large red beets, remove greens and roots; slice them up. Cover with water in sauce pan; bring to a boil; reduce heat and simmer until tender only a small amount of water remains, about a ¼ cup. Eat the beets and bottle up the red beet juice, you now have all natural red beet juice.