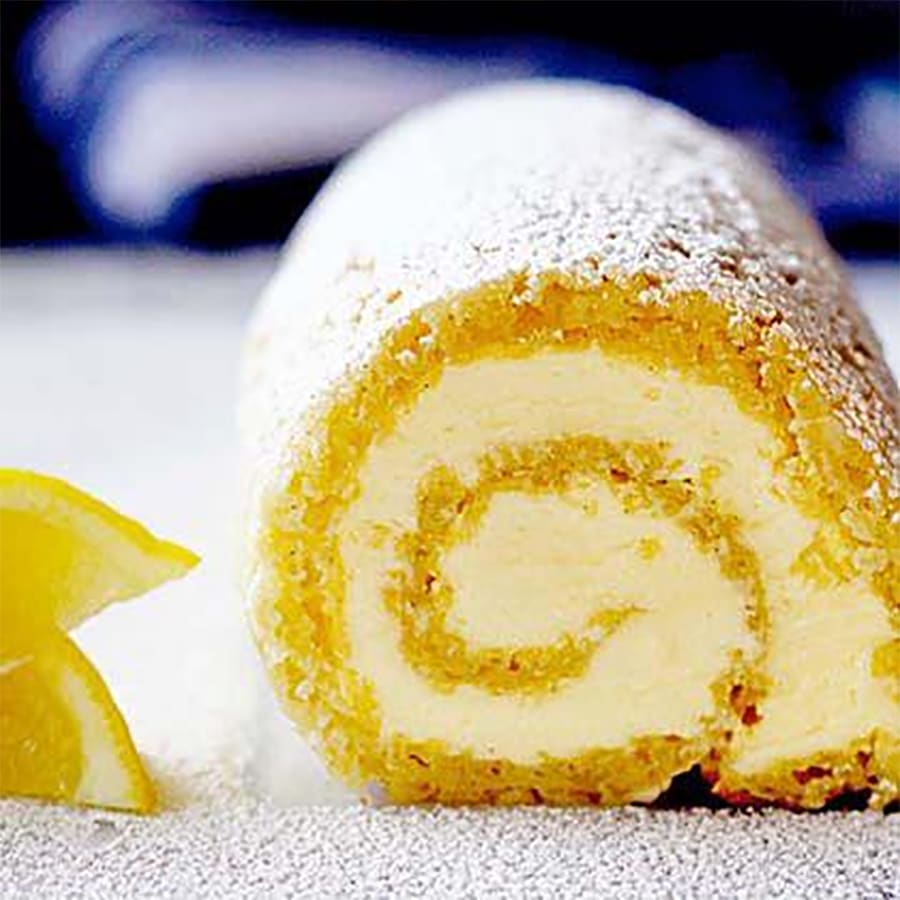 makes 8 to 10 servings
for the cake
3/4 c all-purpose flour
1/4 teaspoon baking powder
1/4 teaspoon baking soda
1/4 teaspoon sea salt
2 large eggs
3/4 cup granulated sugar
1/4 cup fresh lemon juice
1 1/2 tablespoons lemon zest
1 1/2 teaspoon vanilla paste or extract
for the filling
12 ounces mascarpone cheese
3/4 cup confectioner's sugar plus more for dusting
1/4 cup honey
2 tablespoons heavy cream
pinch of sea salt
you will need: parchment paper, jelly roll pan, and cooking oil spray
Notes: To make in advance, prepare the cake but do not dust it with the confectioner's sugar. Wrap with plastic wrap and store in the refrigerator. When ready to serve, dust with the confectioner's sugar and slice. Can be made 3 days in advance and can also be frozen for longer storage. If frozen, set out at room temperature to thaw.
1. Preheat oven to 375°F. Prepare a 15″X10″ jelly roll pan by lining it with parchment paper that is sprayed with cooking oil spray and dusted with flour. This will help you get the cake out of the pan with out tearing.
2. In a medium bowl, mix to combine flour, baking powder, baking soda,and salt. Set aside until needed.
3. In a stand mixer fitted with a paddle attachment, combine eggs and granulated sugar. Beat on medium-high speed for 3 minutes until light yellow and thickened. Next, add the lemon juice, lemon zest, and vanilla extract and mix until combined. Turn the mixer to low and slowly add the four. Mix until just combined.
4. Pour the batter evenly into the prepared pan. Place in the oven and bake until the edges turn golden and the top springs back when touched, about 10 to 12 minutes.
5. On a board or heat-resistant table lay down a clean tea towel or parchment paper and sift a good layer of confectioner's sugar on top. When the cake is finished baking, carefully flip the cake over onto the sugar coated towel or paper. The sugar will keep it from sticking. Carefully, pull the parchment paper off of the cake. Cover immediately with a damp cool towel. This will keep the cake moist while your're making the buttercream and letting the cake cool.
6. While the cake is cooling, combine mascarpone cheese, confectioner's sugar, honey, cream, and salt into a stand mixer fitted with a paddle attachment. Mix on medium for about 1 minute until combined and fluffy. Once the cake has cooled completely, remove the damp towel and spread the buttercream evenly on the cake with a spatula. It's very important to spread the buttercream evenly. You're in no rush so take it slow, ace.
7. Starting at one end, roll the cake up as evenly as possible until the entire cake is a roll. With a large bread knife, trim the ends to make a neat edge. Place additional confectioner's sugar in a sifter and cover the entire cake with sugar. Slice and serve
Recipe adapted from insockmonkeyslippers