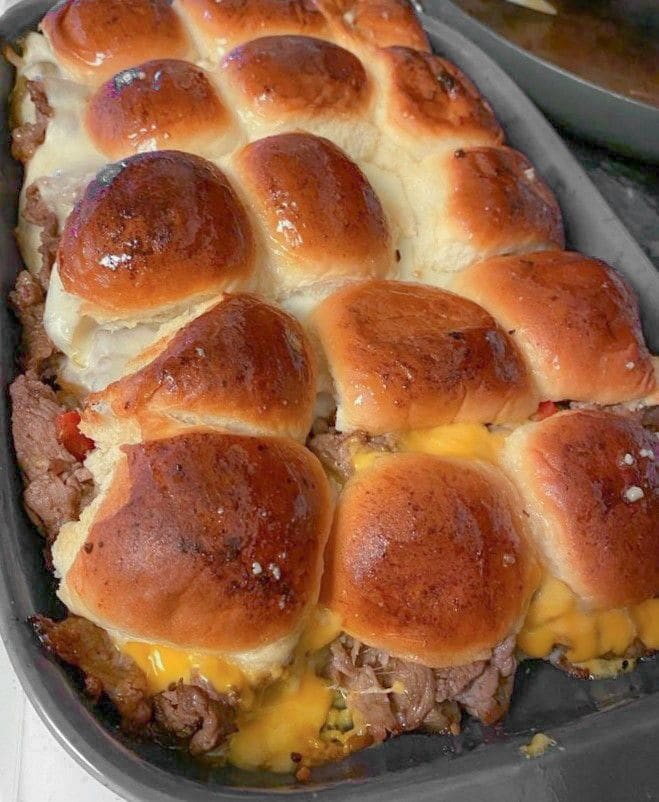 The recipe for these easy Philly Cheese Steak Sliders is so quick and easy to make, you'll be impressed! Thin slices of steak cooked with peppers, mushrooms, and onion, added to Hawaiin buns and coated with a garlic butter seasoning.
What is a Philly Cheese Steak?
A Philly Cheese Steak is a sandwich that originates and has its roots in Philadelphia, Pennsylvania (that's where it gets its name from). The sandwich is made with thinly sliced beefsteak and melted provolone cheese. Often peppers, mushrooms, and onion are added to the steak. I love the combination and we often make the sandwiches or order them when we are out and about.
Philly Cheese Steak Recipe-
As wonderful as the Philly Cheese Steak Sandwiches are, they aren't all that great for parties. These sliders take everything that is so wonderful about the sandwich and make them into mini portions. Perfect for families with little children or parties!
For Ingredients And Complete Cooking Instructions Please Head On Over To Next Page Or Open button (>) and don't forget to SHARE with your Facebook friends