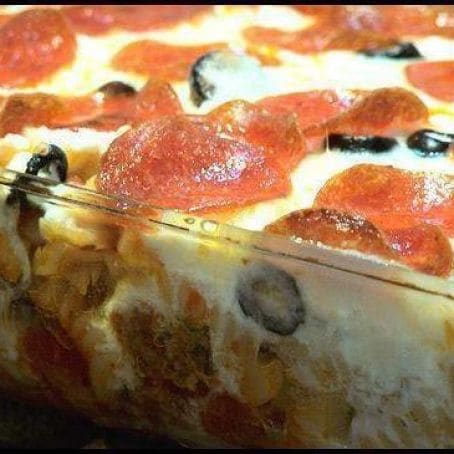 Pizza…in casserole form! Your friends and family are going to love this one!
1 (16 ounce) package uncooked rotini pasta
1 lb ground Italian sausage
1 (24 ounce) jar pasta sauce
1 (16 ounce) container cottage cheese
1 (2 1/4 ounce) can sliced black olives, drained (optional)
1 (4 ounce) can mushrooms, drained
12 ounces shredded mozzarella cheese
2 (3 ounce) packages sliced pepperoni
Directions:
Preheat oven to 350 degrees. Lightly grease a 9X13 casserole dish.
Bring a large pot of lightly salted water to a boil. Place pasta in the pot, cook for 8 to 10 minutes, until al dente, and drain.
In a skillet over medium heat, cook the sausage until evenly brown, drain grease. Mix in the cooked pasta and pasta sauce. Pour into prepared casserole dish.
In a bowl, mix the cottage cheese, olives, mushrooms and mozzarella cheese.
Spoon the cheese mixture over the sausage and pasta mixture. Top with pepperoni slices.
Bake 25 minutes in the preheated oven, until bubbly and lightly browned.