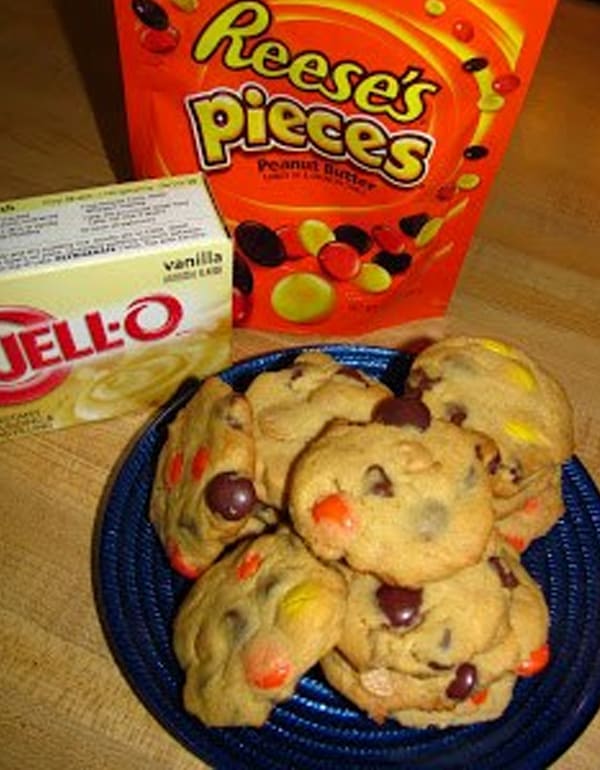 Makes 70-80 cookies!
Ingredients:
2 1/4 cup all purpose flour
1 teaspoon baking soda
1/2 teaspoon salt
1 (3.4 ounce) box instant vanilla pudding
3/4 cup unsalted butter, softened
1/2 cup creamy peanut butter
1/2 cup sugar
1/2 cup light brown sugar
2 large eggs
1 teaspoon vanilla extract
1 tablespoon honey
1 cup milk chocolate chips
1 cup Reese's Pieces candy
1 cup peanut butter chips
Directions:
Preheat the oven to 350°F.
Line 2 cookie sheets with parchment paper or a Silpat.
In a medium bowl, whisk together flour, baking soda, salt and pudding; set aside.
In the bowl of a stand mixer fitted with the paddle attachment, beat butter, peanut butter, sugar and brown sugar on medium speed until light and fluffy, about 3 to 4 minutes.
Add eggs, scraping down the sides of the bowl as needed.
Add vanilla extract and honey and beat until combined.
Reduce speed to low and add flour mixture, beat to combine.
Add chocolate chips, Reeses pieces and peanut butter chips and mix until incorporated.
Roll a tablespoon or so of dough into a 1inch ball between your palms and then place it on the prepared baking sheet.
Repeat with the remaining dough, spacing the balls about 2 inches apart (you should be able to fit 12-16 cookies on each sheet).
Using your palm, gently flatten the dough balls until they are about ¾ inch thick.
Bake 10 minutes.
Remove from oven, let cool for a couple minutes and enjoy!
These cookies keep well and stay soft. They are great to be baked ahead of time for a party!