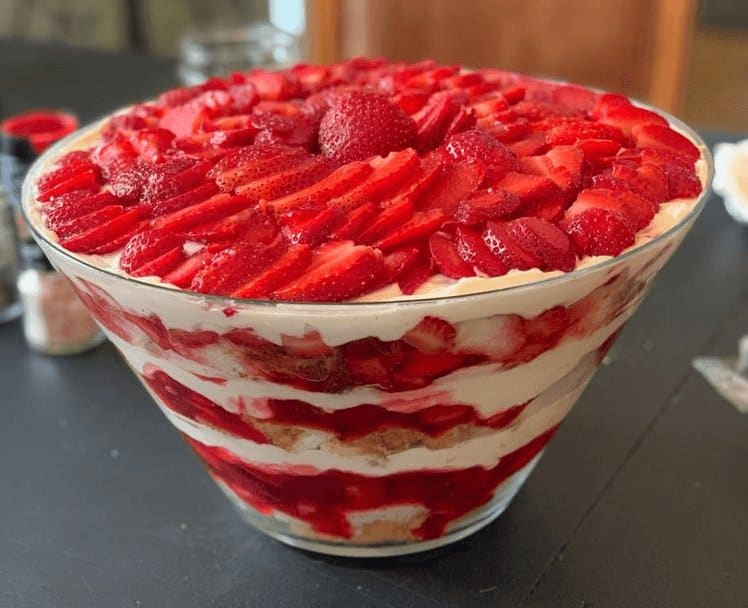 Not exactly health food, but this strawberry cheesecake trifle is definitely lighter fare than so many other dessert options! You know it's a hit when the men at the table start inquiring about the ingredients. They do combine beautifully for a delicious party in your mouth with every bite.
Ingredients:
1 package (8 ounces) cream cheese, softened
1 cup (8 ounces) sour cream
1/2 cup cold milk
1 package (3.4 ounces) instant vanilla pudding mix
1 carton (12 ounces) frozen whipped topping, thawed
1-1/2 cups crushed butter-flavored crackers (about 38 crackers)
1/4 cup butter, melted
2 cans (21 ounces each) strawberry pie filling
Directions:
In a large bowl, beat the cream cheese until smooth. Beat in the sour cream; mix well.
In a small bowl, beat milk and pudding mix on low speed for 2 minutes. Stir into cream cheese mixture. Fold in whipped topping.
In a small bowl, combine crackers and butter.
In a 2-1/2-qt. trifle bowl, layer half of the cream cheese mixture, crumbs and pie filling. Repeat layers. Refrigerate until serving. Yield: 12-16 servings.