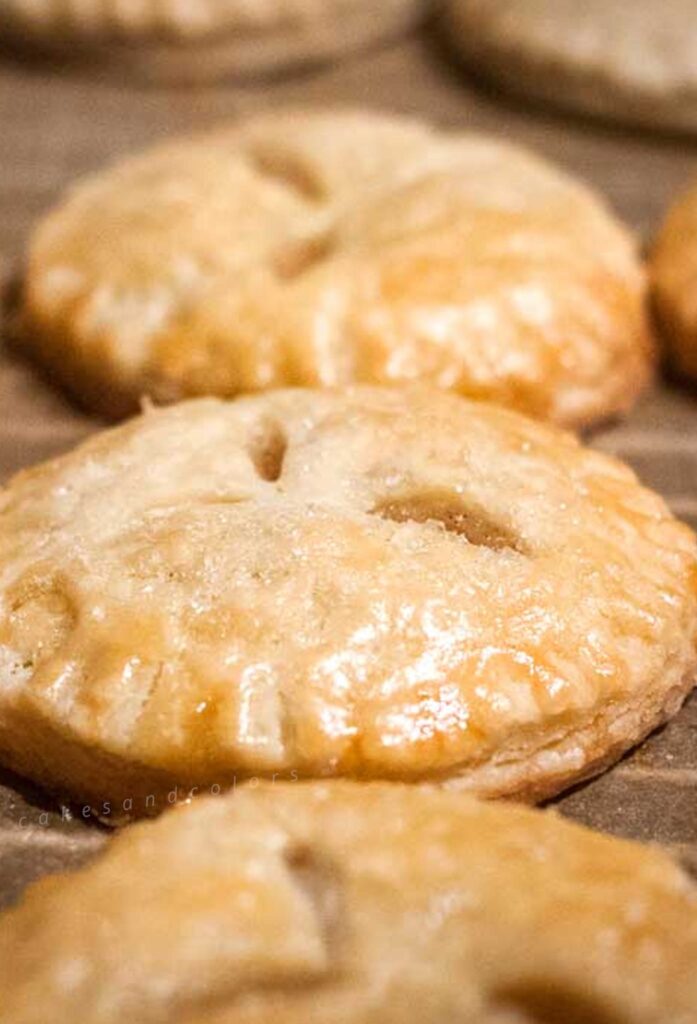 Filled with a delicious apple cinnamon filling, these Apple Pie Cookies pack everything you love about apple pie into the perfect bite-sized taste of fall!
Yield: ABOUT 24 COOKIES – Cook time: 25 MINUTES – Total time: 25 MINUTES
Ingredients
Crust
2 1/2 cups all-purpose flour
2 tablespoons granulated sugar
1 teaspoon table salt
2 sticks unsalted butter, very cold
1/2 cup water, very cold
Filling
3 medium apples
Squeeze of lemon juice (optional)
1/3 cup granulated sugar
1 teaspoon ground cinnamon
Few gratings fresh nutmeg
Assembly
1 large egg
Coarse or granulated sugar for garnish
---
Instructions
Make the crusts:
Whisk together flour, sugar and salt in the bottom of a large.
Cut butter into small pieces. Using two forks or your fingertips, work the butter into the flour until the largest pieces of butter are the size of small peas. (If using a stand mixer, you can add the sticks of butter in whole) Gently stir in the water with a rubber spatula. Mix until it forms into a large airy mass.
Knead the dough by hand two or three times to form a ball. Divide dough in half. Wrap each half in plastic wrap and flatten a bit. Chill in fridge for at least an hour or up to two days.
Preparing the dough
Meanwhile, get everything else together: Line up six small dishes. In the first one, pour some water. Leave the second one empty; you'll use it for your apples in a bit.
Combine the sugar, cinnamon, and nutmeg in a small bowl. In a seperate bowl whisk an egg with one teaspoon of water until smooth.
On a well-floured surface, roll out one of the pie dough balls fairly thin (about 1/8-inch thick). Lift and rotate your dough as you roll it. This ensures that it rolls out evenly. Using a 2 1/2-inch round cookie cutter, cut as many rounds as you can from the dough. Transfer them to parchment-lined baking sheets and keep in the fridge until needed. Repeat this step with the second dough ball.
Prepare the apples and assembly:
Peel your apples, and cut into thin (1/8-inch thick) slices. Cut the apple slices into smaller pieces that will fit inside your cookies. Place apple slices in a bowl, covering them with a few drops of lemon juice if you find that they're browning quickly.
Preheat oven to 350 degrees.
Lay out the first half of dougn rounds you had prepared earlier onto a well floured surface. Lightly moisten edges of the crusts with water.
Toss apples in cinnamon mixture and place on top of each of your dough rounds. Be sure not to let apples go all the way to the edges.
Place the second half of dough rounds on top of apple mixture. Press the edges down with your fingers to seal the edges.
Crimp edges using a fork (if the fork sticks to the dough, flour it some).
Cut 2-3 slits into the top of each cookie. Brush your cookie with egg wash and sprinkle with coarse sugar.
Transfer cookies to a baking sheet. Bake for 25 minutes, or until the tops are puffy and golden (resembling a full-sized apple pie).
When done, remove cookies to a cooling rack, and allow to cool before serving.
Notes
You can prepare these cookies ahead of time and freeze them until needed. Just do not give them the egg wash or sprinkle them with sugar. When ready to bake, just remove from freezer, add the egg wash and sugar. Bake as normal, adding only a few minutes to the cooking time.