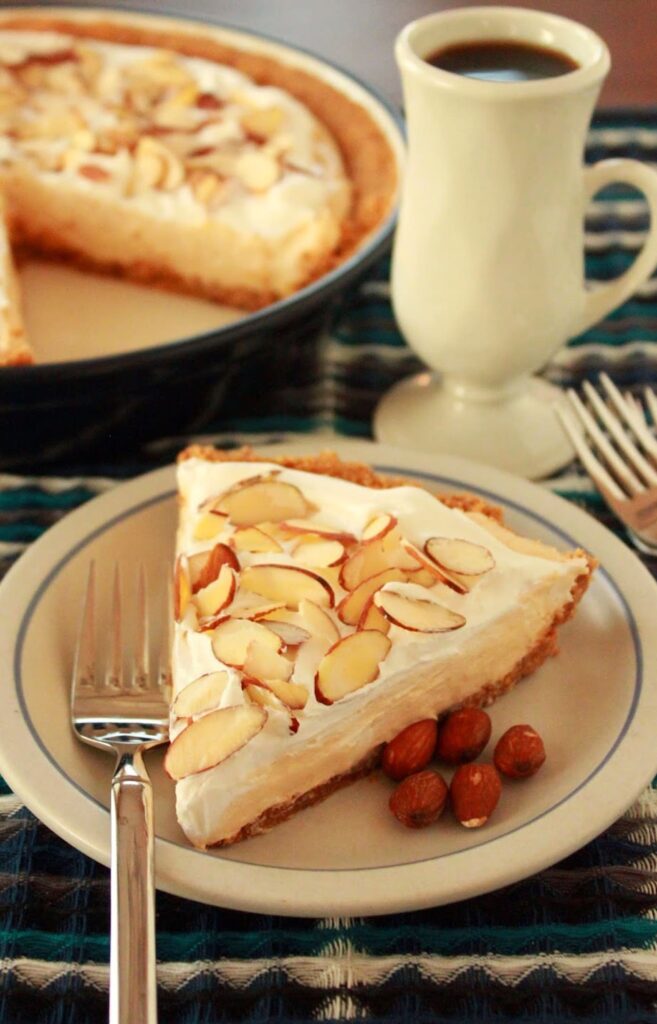 Graham Crust: 
1 1/2 cups graham cracker crumbs
2 Tablespoons light brown sugar
6 Tablespoons unsalted butter, melted
Almond Butter Filling:
1/2 cup Jif Creamy Almond Butter
1- 8 oz. package cream cheese, softened
2 Tablespoons unsalted butter, softened
1/2 cup powdered sugar
1/2 teaspoon vanilla extract
1/8 teaspoon almond extract
1- 8 oz. container frozen whipped topping, thawed
3 Tablespoons sliced almonds
For The Crust: Preheat oven to 350 degrees F.
In a medium bowl, combine graham cracker crumbs and sugar. Stir in the melted butter until thoroughly blended. Press mixture firmly into a 9-inch pie pan, bringing crumbs evenly up the sides up to the rim.
Bake for 8 to 10 minutes. While crust is cooling, prepare the filling.
For The Filling: In a large bowl, beat the almond butter, cream cheese and butter until creamy. Add the powdered sugar, vanilla and almond extracts and blend until combined. Blend in 2/3 of the whipped topping, scraping down the sides of the bowl as necessary.
Pour the almond butter filling into the cooled crust. Spread the remaining whipped topping onto the filling. Top with sliced almonds. Chill at least one hour or until pie is firm. Serve chilled.
Recipe adapted from lickthebowlgood