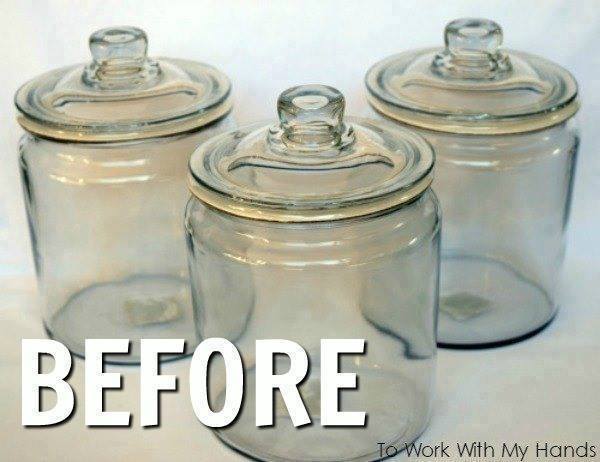 Once the compound was dry, I gently wiped off the peaks, then applied a coat of paint in rich fall colors. I kept it cost-effective by buying a sample canister of the three colors I chose from my very favorite paint: Home Depot's Behr Premium Plus.
Finally, I added a 4″ poly stone fleur-de-lis to each jar to add a Tuscan touch, and they were done! I absolutely love how they turned out, and now I have a little more Tuscan decor to add to my collection.
NOTE: The jars for this project were provided to me, free of charge, from Jar store. See the original post for details and for links to the other fabulous projects in our challenge.
Materials I used for this project:
Glass Apothecary Jars   (Jar Store)
Zinsser Primer   (Wal-Mart)
Dry Dex Spackling Compound   (Wal-Mart)
Speaking Knife   (Wal-Mart)
Sponge Brush   (Wal-Mart)
Basic Paint Brush   (Wal-Mart)
Paint Samples in 3 colors   (Home Depot)
3- 4″ Polystone fleurs-de-lis   (Hobby Lobby)
Gorilla Glue   (Wal-Mart)
To see more: http://www.toworkwithmyhands.com/2016/09/old-world-style-fall-kitchen-canisters.html