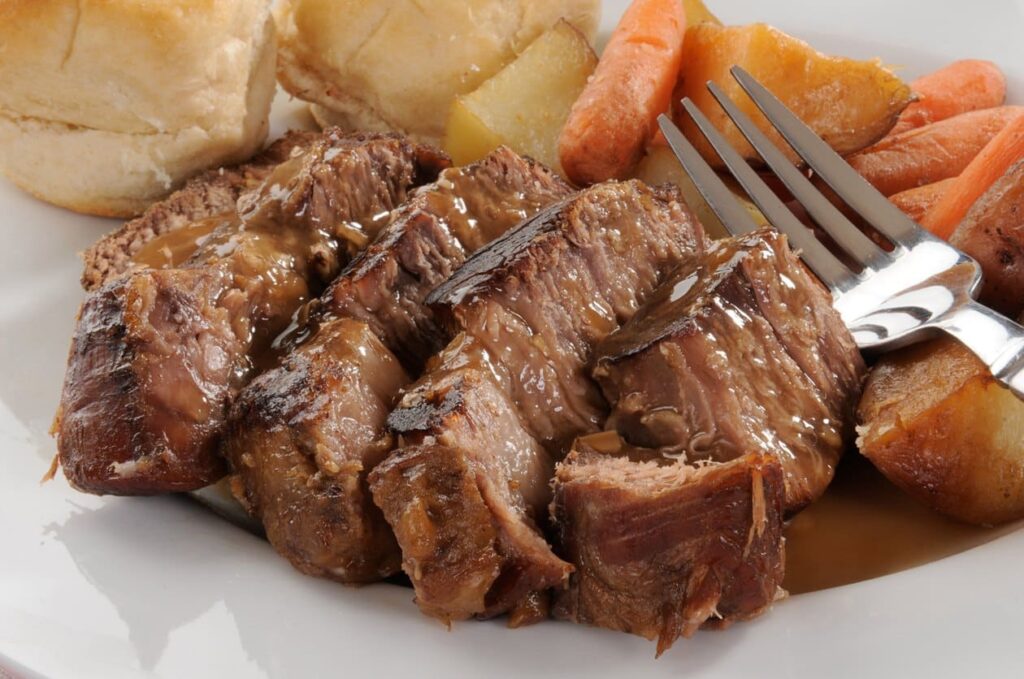 This is my favorite pot roast recipe – it seems like all the ingredients are in such good balance, it turns out perfect every time.
The best part is, you'll get instructions for both oven, and slow cooker! I've always made this in the oven (mostly because I've been in a hurry to get it done), but if you have a few extra hours, I bet this will turn out even more delicious in the crockpot. Just set it and forget it in the morning – when you return you'll have a wonderful meal ready and waiting!
Ingredients
Bertolli olive oil
1 (5 pound) roast beef (chuck, shoulder or round)
2 tablespoons Worcestershire sauce
½ teaspoon salt
½ teaspoon black pepper
2 medium onions, cut into wedges
1 pound carrots, cut into 1-2 inch pieces
4 stalks celery, cut into 1-2 inch pieces
2 cups beef broth
3 sprigs fresh thyme or ½ teaspoon dried thyme
Instructions:
Drizzle olive oil into the bottom of a heavy Dutch oven over medium heat. Add roast, season with Worcestershire sauce, salt and pepper, and brown on all sides.
Add in vegetables and cook until lightly browned, about 5 minutes.
Oven Method
Preheat oven to 320 degrees.
Add beef broth and thyme to pot roast and place in oven for 4-5 hours, until the roast is fork tender. Serve warm.
Slow Cooker Method
Transfer pot roast and vegetables to the insert of a slow cooker. Add beef broth and thyme. Cook on low setting for 6-8 hours, depending on your slow cooker.